I have absolutely nothing in my wardrobe with a floral print or rosettes or anything so I decided to walk around the house and take pictures of floral things. Enjoy!
This is the bouquet I carried as Maid of Honor in my little sisters wedding. It was a Renaissance wedding in November so the colors were orange and brown and burgundy - fall colors. I carried this around all day before I realized they were fake flowers, the petals are really soft. This sits on the side table by the couch in a black glass vase. Behind it is a vintage postcard of Buffalo that my Dad gave to me.
We have a lot of Mucha and Mucha-esque prints around the house. Hubby and I both have a huge love of his artwork.
This is a Victorian-era butterfly diorama that we found while out "picking" one weekend. It has a prominent place in our living room.
This floral picture frame we found at Ikea quite a few years ago. My
husband
just recently painted this picture to go in it. This is on the wall behind our couch.
A few "floral" things going on here. The stained glass is a floral motiff that we have along the top of a few of our windows. The year-round Halloween garland made by moi is florally to me. And the iron light fixture is swirly with leaves. Yes, that is a taxidermy bear head behind it.
This fixture came with the house. I have bought three different hurricane glass lamps to fit over that bulb and none will work! So now we just stare at the bulb. I still like it though.
Stairwell window with floral and skull shawl drapes.
BUGS! They like flowers right? One of those praying mantis' were our "pet". That big thing center bottom is her egg sack. She laid that soon after we got her and it sat there for a few months. We went away for about a week and when we came home it had hatched and we had literally THOUSANDS of teeny tiny mantis babies all over our computer room. They basically ended up eating each other and mostly cleaned themselves up but it was quite a surprise to come home to. The momma died on her own and had a good life and now she lives here. :) The other bugs were found around our house in TX. Scary huh?
This is a neat little antique I picked up in near Galveston,TX after a woman had stripped an old hotel and was selling off all the pieces. These were pretty popular around the turn of the century. They would have a piece of heavy paper behind the glass with a background picture on it.
And one of our heater grates. I just love the details that these old homes have! Our apartment is a little worse for wear in some places but the charms outweigh the cons in my opinion.
Well, that's my interpretation of Floral. Go check out all the other submissions by clicking on the linky.
I'm also adding a few more flower hairclips to my
etsy store
.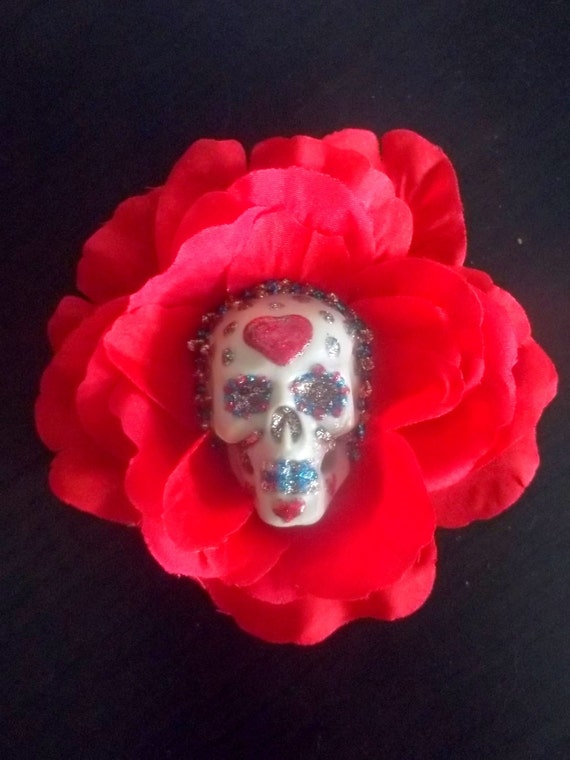 Thanks for reading! Cheers!