I personally became aware of the illustirous Vampira in 1995 at the impressionable age of 15 when I saw the movie
Ed Wood
. From then on, my love affair with this scream queen has only grown.
Vampira was a beautiful and campy horror movie hostess for
The Vampira Show
which aired on the Hollywood ABC affiliate channel from April 30, 1954 to May 1955. Maila Nurmi was asked to create the Vampira character after being spotted at a Halloween party dressed as Charles Addams', Morticia.
The Vampira Show
was a huge success and won Nurmi an Emmy nomination in 1954 for Best TV Personality.
Life
magazine even did story on Nurmi, and included a spread on
The Vampira Show
. (June 14, 1954, pp. 107, 108, 110).
Unfortunately,
The Vampira Show
was not preserved in it's entirety but there are snipets that have survived through the years. Here is one of the opening scenes.
After
The Vampira Show's
cancellation, Nurmi went on to work in a few Hollywood films. The most memorable being Ed Wood Jr.'s low budget horror movie
Plan 9 From Outer Space,
also starring an aged Bella Legosi. Dubbed in the 70's as 'the worst movie ever made' in a book entiteled
The Golden Turkey Awards
, Plan 9 from then on held a firmly rooted place as a cult-classic movie.
Here is a great video with all of her scenes from
Plan 9 From Outer Space
.
Maila Nurmi's later years consisted of opening a boutique in Hollywood, Vampira's Attic, selling handmade jewelry and clothing. In the late 80's she actually
sued
Cassandra Peterson over the
Elvira
character but lost the suit.
In 1979, The Damned paid homage to Vampira on their track
Plan 9 Channel 7
on the album
Machine Gun Ettiquette
.
The Misfits also entitled a song,
Vampira
, on their album
Walk Among Us
in 1982. Both songs helped to firmly enmesh Vampira into the punk/emerging goth scene.
In 1994, Tim Burton's movie
Ed Wood
introduced Vampira to a new generation of fans. Played by Burton's then wife, Lisa-Marie, Vampira comes to life as a sardonic Hollywood actress.
Ed Wood
is a must-see for any Vampira fan.
Here is a video of Lisa Marie as Vampira that can be found at the closing credits of the movie.
In 2007 the independently produced film documetary,
Vampira The Movie,
was released. It features new exclusive interviews with Maila "Vampira" Nurmi herself as well as interviews with other well known horror personalities including Sid Haig and Cassandra Peterson. The producers of this film were at the San Diego Comic-Con when I was there in 2007 and I was able to pick up a copy of the movie. I highly recommend seeing this film as it greatly opened my eyes to the world of Vampira.
American Scary
(2006) is another documentary chronicling the nation's tradition of horror-hosting favorites. It also includes an interview with Nurmi.
Maila Nurmi died in on January 10, 2008 of natural causes at her home in Hollywood, CA. She rests in the Griffith Lawn section of the Hollywood Forever Cemetary.
Just a quick google search for Vampira will bring up a wealth of merchandise, pictures and blog posts on this iconic scream queen. A search on Etsy alone will pull up a plethora of cool baubles and artwork featuring Vampira. Click on the pictures to be taken to the etsy stores.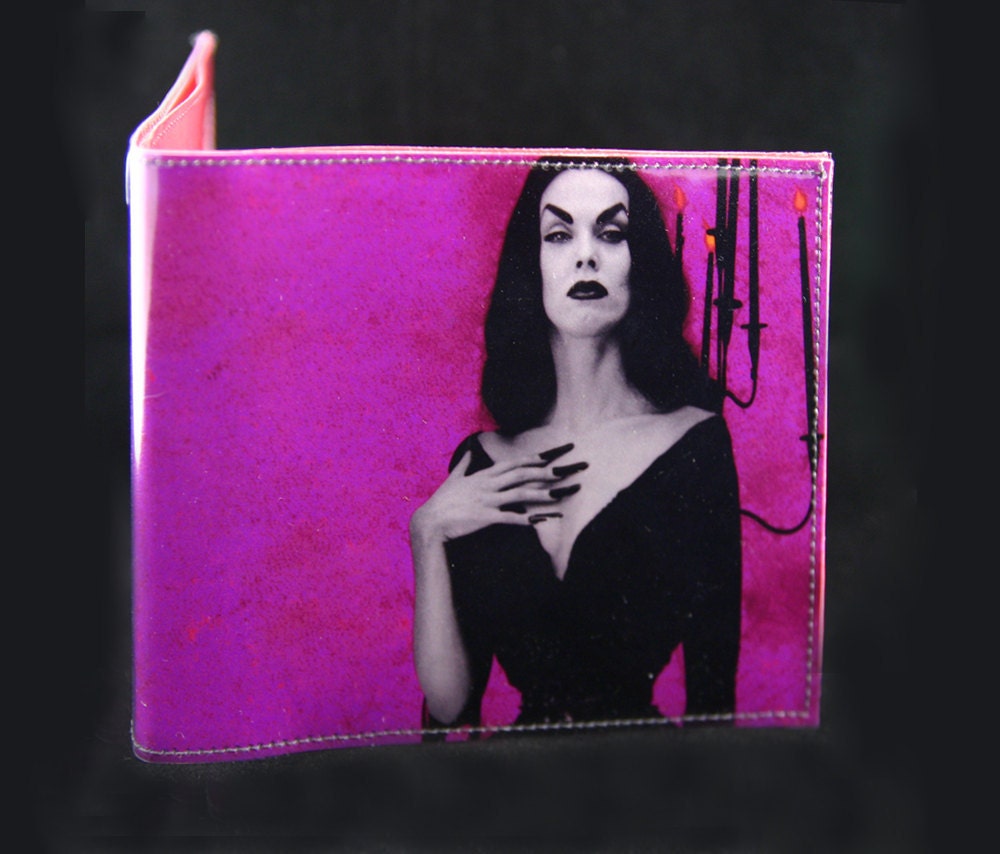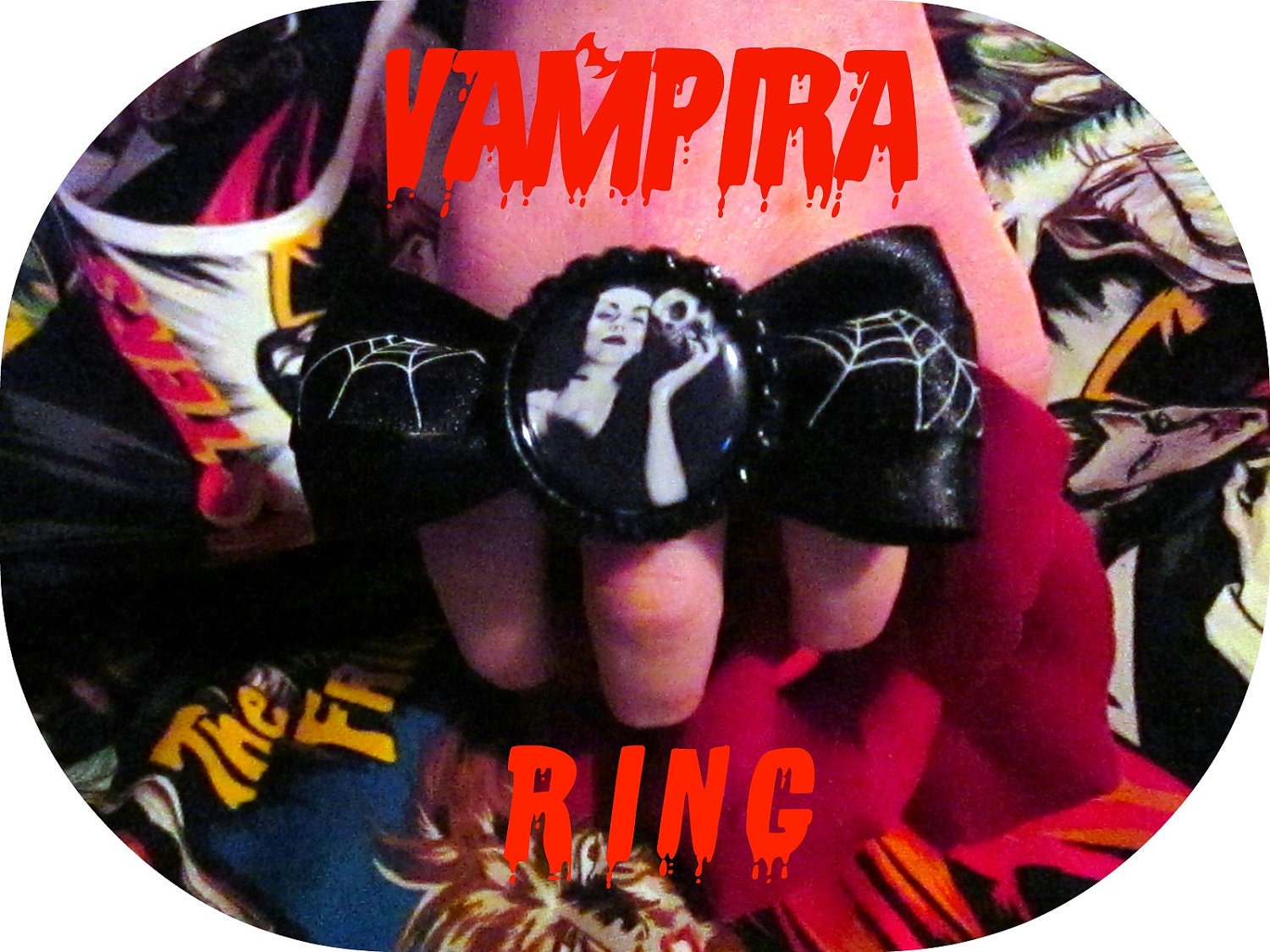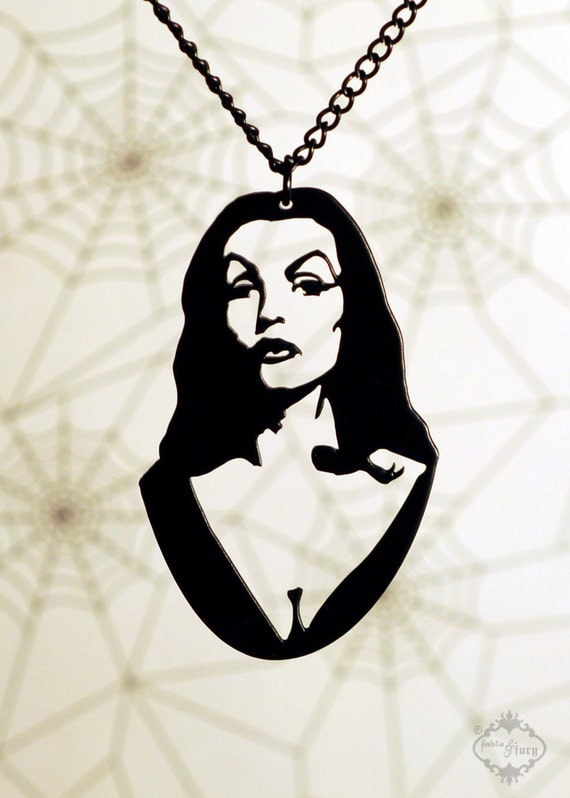 I have just scratched the surface on the wealth of information to be found on Vampira. Maila Nurmi lead such an interesting life and there are thousands of pictures to be found if you are interested. Some other great resources include
Vampira's Attic
facebook page and a 2008 interview in
Bizarre
magazine among many others.
This post has been compiled as part of THE VAMPIRE SOIREE hosted by Holly's Horrorland. Please click on the banner below to visit all of the great blogs that participated in this year's event.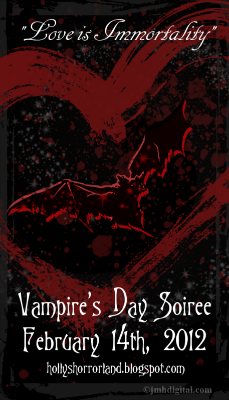 Thanks for reading!
Cheers!